---
Vibrating Fluid Bed Dryer Flow Chart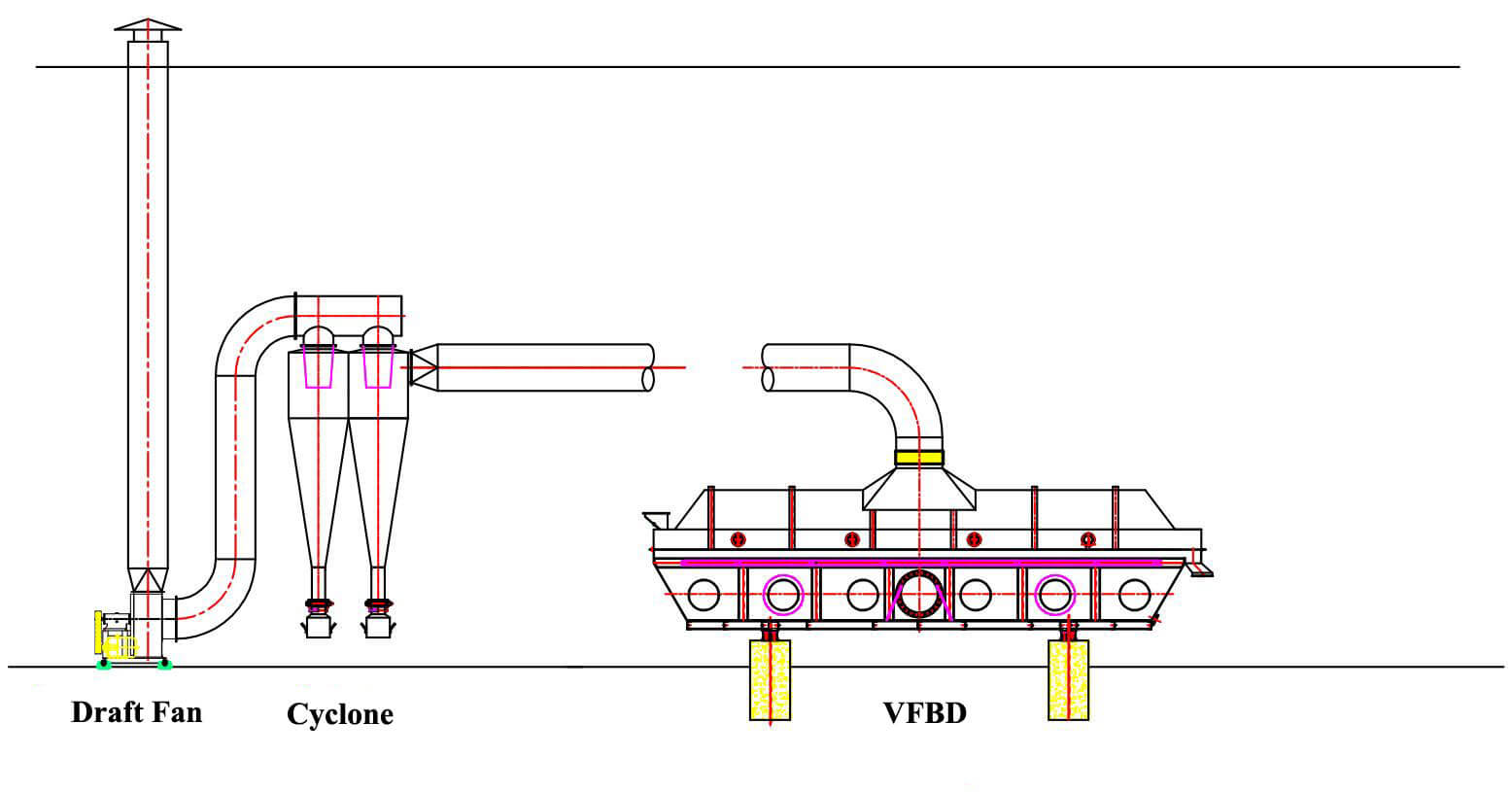 ---
Technical Parameters
Model

Fluidized bed area (m2)

Inlet air temperature (℃)

Outlet air temperature (℃)

Dry strength

(kg.H2O/h)

Vibration motor

Model

power

ZLG3×0.3

0.9

70-140

40-70

30-45

ZDS31-6

0.8×2

ZLG4.5×0.3

1.35

70-140

40-70

45-75

ZDS31-6

0.8×2

ZLG4.5×0.45

2.025

70-140

40-70

70-125

ZDS32-6

1.1×2

ZLG4.5×0.6

2.7

70-140

40-70

90-150

ZDS41-6

1.5×2

ZLG6×0.45

2.7

70-140

40-70

90-150

ZDS32-6

1.1×2

ZLG6×0.6

3.6

70-140

40-70

120-200

ZDS41-6

1.5×2

ZLG6×0.75

4.5

70-140

40-70

150-250

ZDS42-6

2.2×2

ZLG6×0.8

4.8

70-140

40-70

160-270

ZDS42-6

2.2×2

ZLG6×0.9

5.4

70-140

40-70

180-300

ZDS42-6

2.2×2

ZLG7.5×0.6

4.5

70-140

40-70

150-250

ZDS42-6

2.2×2

ZLG7.5×0.75

5.625

70-140

40-70

190-315

ZDS51-6

3.0×2

ZLG7.5×0.8

6

70-140

40-70

200-335

ZDS51-6

3.0×2

ZLG7.5×0.9

6.75

70-140

40-70

225-375

ZDS51-6

3.0×2

ZLG7.5×1.2

9

70-140

40-70

300-500

ZDS51-6

3.0×2

ZLG7.5×1.5

11.25

70-140

40-70

375-625

ZDS51-6

4.0×2

ZLG8×1.2

9.6

70-140

40-70

320-535

ZDS51-6

4.0×2

ZLG8×1.5

12

70-140

40-70

400-670

ZDS51-6

5.5×2

ZLG8×1.8

14.4

70-140

40-70

480-800

ZDS51-6

5.5×2
---
1. Hot Air System
This system provides clean air before drying.
Filtration capacity: 8000m3/h (max)
Pressure drop: 50Pa
Material: filter material is non-woven fabric
Heating system: direct-fired gas hot blast stove
Heater material: inner tank 310S stainless steel
2. Drying System
Upper Bed Body: The upper bed separates the drying area from the atmosphere to prevent dust leakage from causing environmental pollution. The size of the upper part is larger than that of the lower part, so the wind speed of the upper part is lower than that of the lower part, which is conducive to particle sedimentation, reduces the amount of dust entrained, and reduces the amount of dust collected by the dust collector. The amount of dust, less dust is emitted to the atmosphere, and it is more environmentally friendly
Lower Bed Body: The lower bed is the air chamber into which the hot air enters, and the bed board completes the task of evenly sending the hot air into the bed. At the same time, the vibration motor is also installed on the lower bed. The volume of the lower bed is related to the uniformity of the pressure drop and the fluctuation of the pressure drop. For this reason, there must be a large enough volume and length of the lower bed, we can provide 30 vibrating fluid bed, 40 vibrating fluid bed, and 60 feet long vibrating fluid bed. The lower bed must bear the dynamic load of all the vibration bodies, so The lower bed should be designed as a box frame structure.
Bed Board: The main machine adopts the combined opening method of the serpentine hole and straight hole. The material contact adopts SUS316L stainless steel.
3. Dust Removal System
This system is composed of one set of SUS304 stainless steel primary cyclone separator, its diameter is XF-φ900.
4. Control System
Electrical control system configuration description:
The inlet air temperature is automatically adjusted by PLC.
The feeding amount can be automatically adjusted according to the change of the outlet air temperature.
Real-time monitoring of the main parameters such as the pressure in the dryer, the temperature of the air inlet and outlet, and the differential pressure.
---
ZLG 6×0.6 Vibrating Fluid Bed Drying Solution for NaCl
Specific Gravity of Raw Material

Wet Basis Moisture Content

Natural Gas Hot Blast Stove

Dry Basis Moisture Content
2. Equipment Process Conditions

ZLG 6X0.6 Vibrating Fluidized Bed

Centrifuge Vertical Feeding

Plant drawing is required

70~80℃, Discharge Temperature 30℃

316L (contact with the material)
3. Public Works Conditions

Compressed Air Consumption & Pressure
---
ZLG 9×1.0 Vibrating Fluid Bed Drying Solution for Sodium Gluconate
1. The Process Conditions

Wet Base Moisture Content

Dry Base Moisture Content

Rated Evaporation Capacity

True Density of Materials

2. The Main Equipment Requirements

Cyclone + cloth bag dust collector

3. The Main Equipment Requirements

Electric Cabinet Controler

Static Material Layer Thickness

Area of Steam Heat Exchanger