---
Centrifugal Spray Dryer Flow Chart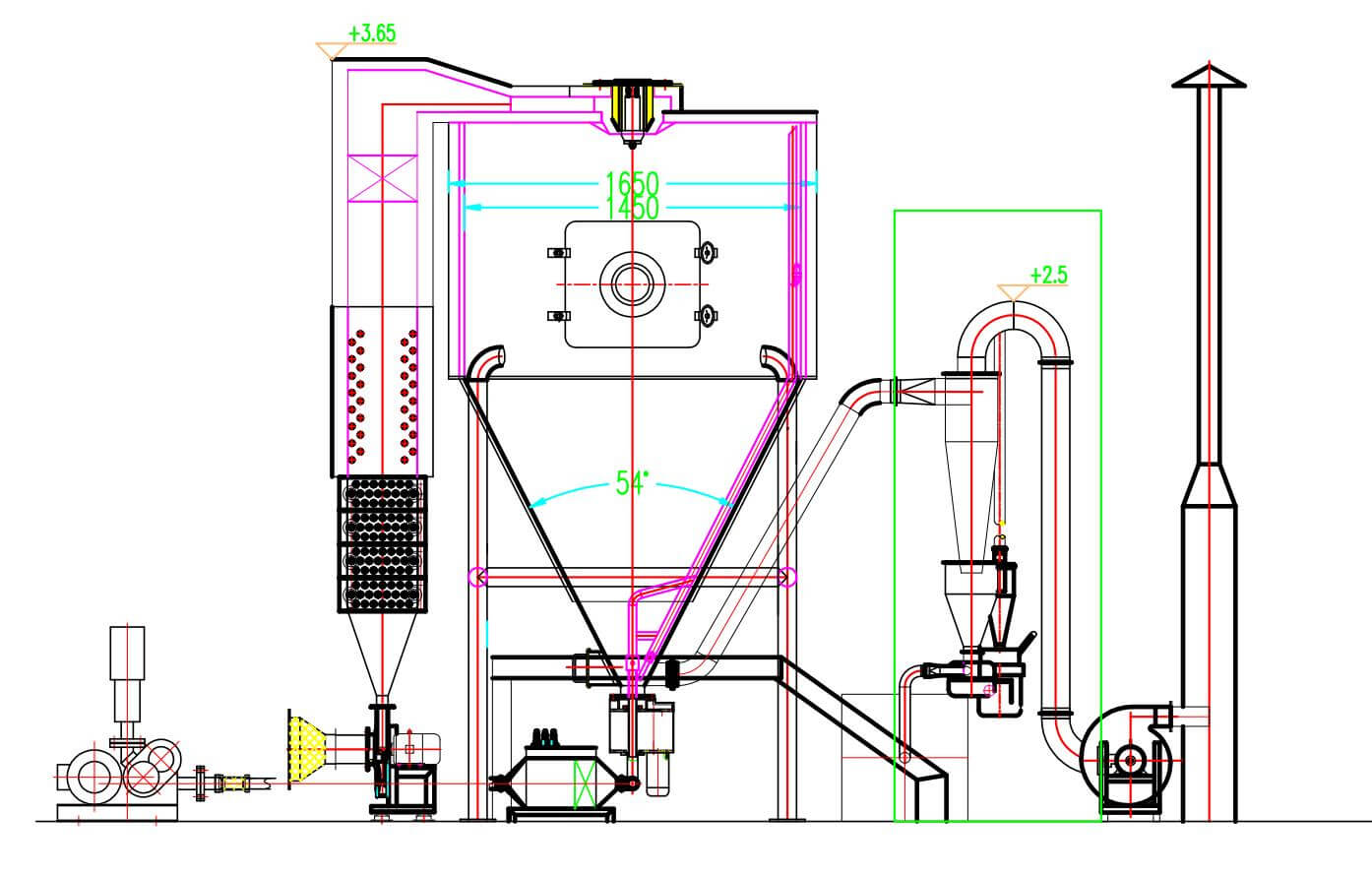 ---
Technical Parameters
Model Dimension
5
25
50
150
200-2000
Inlet Temperature
140-350℃ automatic control
Outlet Temperature
80-90℃
Max. Evaporation Capacity (kg/h)
5
25
50
150
200-2000
Atomizing Method
compressed air transmission
mechanical transmission
Revolution(r.p.m)
25000
18000
18000
15000
8000-15000
Diameter of Atomizing Disc(mm)
50
120
120
150
180-240
Heat Source
electricity
steam+electricity
steam+electricity, oil, oil fuel, hot air furnace
Max. Heating Power(kW)
9
36
72
99
Overall Dimensions(L*W*H)(m)
1.8×0.93×2.2
3×2.7×4.26
3.5×3.5×4.8
5.5×4×7
depends on the actual situation
Dried Powder Restoring Rate(%)
≥95
---
Centrifugal Spray Drying Machine Composition
1. Feeding System
1.5kw, 0.8mpA motor variable frequency screw pump, the design temperature is under normal temperature conditions, if there is a temperature change, please contact us.
2. Hot Air System
This system provides the clean air needed before drying. The filtration volume is 25000m3/h, and the max pressure is 50Pa. The filter material is non-woven fabric, and the heating system adopts steam + electric heating.
3. Drying System
3.1 Inlet Volute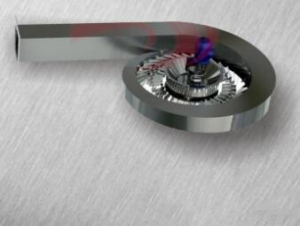 The stainless steel SUS304 logarithmic spiral hot air volute is at the top of the drying tower, providing stable hot air for the drying tower.
3.2 Drying Tower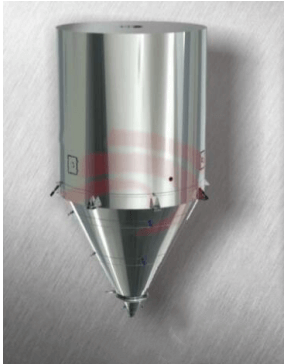 The drying tower is a cylindrical tall cylinder with a conical bottom. The tower has hot air inlet and outlet, inspection and cleaning ports, observation holes, lighting holes, etc. The entire drying tower is mounted on a bracket.
The inner and outer walls of the tower are made of stainless steel SUS304. The insulation material is 100mm aluminum silicate (Al₂SiO₅).
---
Applications
1. Our LPG-200 Centrifugal Spray Dryer Drying Solution for Nutrient Compound
1. Customer Materials & Requirements

Agricultural organic compounds

Wet basis moisture content

Dry basis moisture content

Cyclone + cooling centralized collection

2. Drying Solution Technical Parameters

LPG-200 Centrifugal Spray Dryer *1

General area for the main tower, clean area for receiving materials

Plant condition drawing is required

3. Public Works Conditions

Compressed Air Consumption
2. Our LPG-2000 Centrifugal Spray Dryer Drying Solution for Mango Juice
1. Customer Materials & Requirements

Wet Bsis Moisture Content

Dry Bsis Moisture Content

Cyclone + Water film dust collector

2. Drying Solution Technical Parameters

LPG-2000 Centrifugal Spray Dryer *1

General area for the main tower, clean area for receiving materials

Plant condition drawing is required

3. Public Works Conditions

Compressed Air Consumption
3. Our TPG-1000 Centrifugal Spray Dryer Drying Solution for Fish Hydrolyzed Protein
1. Customer Materials & Requirements

Wet Base Moisture Content

Dry Base Moisture Content

Two-stage cyclone collector

2. Our Drying Solution Technical Parameters

TPG-1000 Centrifugal Spray Dryer *1

General area for the main tower, clean area for receiving materials

Plant condition drawing is required

3. Public Works Conditions

Compressed Air Consumption
---